Rock - Pen - Clydegale Canoe Trip

Starting at Access Point 9, Rock Lake Campground into Pen Lake. There is a large dock at the Rock Lake launch to accommodate the heavy traffic in the summer months. The river you launch into is the Madawaska River which connects Whitefish L. to Rock L. When leaving, depart on the left side; the right side will bring you into Whitefish L. The departure point is a pleasant, short, meandering paddle lined with hanging bushes and trees that opens up to the lake quite soon.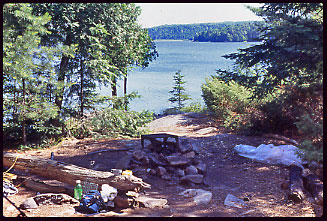 We did this trip in Mid July. I was glad we made reservations. When we were getting our permits there were people arriving without reservation and they were denied access as all lakes were full. In spite the fact that it was mid summer, the weather was very cold and down right nasty. There were high winds and the waves were dangerously high. It was the worst weather I've ever paddled in, and, I intend to keep it that way. If I ever meet that kind of winds and waves, I will definitely wait it out. Getting across the lake was rough; we were fighting the wind and waves and at times we were hardly moving at all. Every now and then, a white capped wave would pour into the canoe. We were relieved when we finally reached the leeward side of the lake.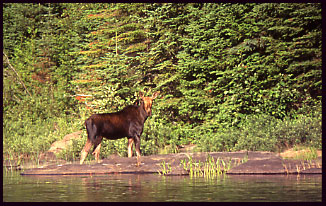 There is lots of nice scenery on Rock Lake, including high cliffs. As we paddled south, the lake changed from a large open lake to a narrow and wonderful tree lined passage that led directly into the portage.  The 375 metre portage navigates around rapids and can be walked from beginning to end in about 5 to 10 minutes. It starts with a short, narrow boardwalk that leads up a small hill.  After you reach the top, it's a smooth , ending with a short steep incline to Pen Lake. A small dock makes the launch easy. Pen Lake is a finger lake that continues along the same fault as Rock Lake and the upcoming Clydegale Lake and its narrow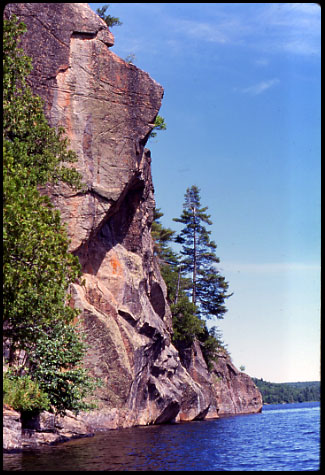 shape makes it very easy to navigate. We grabbed a site on the east shore. It remained cold and windy and continued to rain. It was quite busy, and since nobody was paddling in the nasty weather, we had a few visitors that were hiking around the shore.
The next day, we continued to Clydegale Lake. On the portage, we met a pair of paddlers coming out. They told us that the lake was quiet and they were the only ones on it. This was surprising, as the park office denied access to other paddlers as the lakes were supposedly full. The only explanation that I could come up with was that the other people, who had reservations were stopped by the high winds and bad weather. Since the was only my seconds canoe trip, I think we just didn't know any better. No complaints from us; we certainly didn't mind having the whole lake to ourselves.
The portage is an easy 275 metre over a dam. We found a nice site on a rocky hill with a great view of the lake. After setting up, we ventured down the South Madawaska River. It was an east trip because the wind was on our back. When we returned to our campsite, we had to face a fierce headwind. Most of the time, we had to paddle full throttle just to maintain the same place.
That night we decided that we would have to get up very early to try get as far as we could before the winds pick up. We left our site at 6:30am. We paddled by a cow moose at the portage and continued to Pen Lake. It was relatively easy as we went through Clydegale and Pen Lake. When we arrived at Rock Lake, although it was sunny with deep blue skies, the breeze was starting to pick up again. All we could do was stay close to the west shoreline and fight the wind. It was a very tiring trip.