Sunday Creek, Norway Lake & Fork Lake CanoeTrip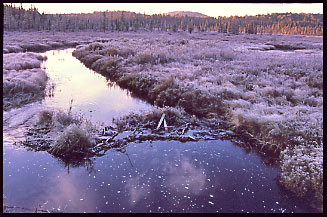 If you are in the Algonquin Parks corridor and you just want to get away from the RVs and car campers and your looking for a little solitude, then consider this easy trip. You can make this a day trip or an overnight camping. This trip has no portages.  The first time I did this trip I did it as a two day solo excursion in early October. It was my first solo canoe trip.
Parking is available at the Spruce Bog Trail parking lot, Access point 10. Begin your trip where Highway 60 crosses Sunday Creek. Wind your way through the narrow creek. You may have to get out and push over some of the shallow areas.  You will be able to see the Visitor's Centre from the creek as well as from certain points at Norway Lake and Fork Lake.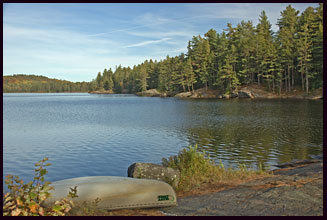 Sunday Creek opens up into Norway Lake. The lake is small and has two decent sites on each end. I picked the site on the west side. Fork Lake is below and it also has two camp sites. Although there are no sites beyond Fork Lake, you can paddle a ways down Rock Creek by taking a few short, but somewhat nasty portages.
Solo tripping is very different from travelling with another person or a group. I thought I might find myself lonely or bored. That, however, was not the case at all. I arrived at the campsite at about 11:00AM. After setting up camp, I ate some lunch. I then spent the afternoon paddling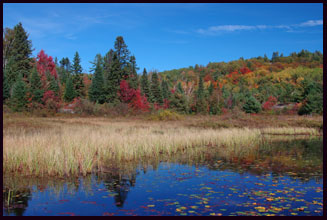 and exploring the neighbourhood. I travelled to Fork Lake and photographed the fall foliage around the area. The only part that I found to be lonely was not being able to share the events, wildlife sightings and sounds and the beauty of the landscape with anyone. The comradeship of a paddling partner is definitely missing from solo tripping. You can't say "did you see that?" or "Isn't this beautiful?".
The evening went by very quickly. Making supper, cleaning up, gathering firewood took up some time. At dusk, I started playing around with my cameras, shooting the sunset, reflection, dusks, campfire, a lantern
glowing tent and the moonrise. By the time I was done, it was well into the evening.
The next day started out beautiful. Then the clouds starting rolling in, giving way to a full day of down pouring rain. Fortunately I made it to my vehicle just as the rain was starting to get heavy. On the way up Sunday Creek, I met up with a group of six otters. They each, like they were all taking turns, came up to my canoe, snorted at me and dove under. They all vanished as quickly as they appeared.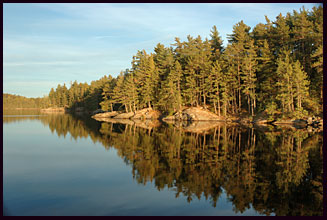 The nice thing about this trip is that it is very easy and within minutes you will find yourself far away from the very busy highway 60 corridor. When I arrived at my parked vehicle, a little cold and wet, I drove up to the visitor centre (about 2 minutes away) and ordered up a hot coffee at the comfortable warm cafeteria.
I returned with my son a few years later in Mid-October, but made it a four day leisure trip: one night on Norway Lake and two nights on Fork Lake. Although we experience a lot a rain the first day and a half, it was still a magical time to be in Algonquin's Interior.