Massasauga Provincial Park is located on the east side of Georgian Bay just south of Parry Sound. It's a park that has been on our radar for a while and we decided that a 5 day trip would be a good length to get familiar with the area. It was our first visit to the park, so we had no idea what to expect other than from a few images on the internet and the odd trip report from other paddlers.
We booked well in advance as we heard the park can get quite busy. The trip can be reserved online and each site has sample images on the web. I have to admit, we are not fans of the site specific booking of interior campsites as we much prefer going by lake and choosing a site while tripping. However, the Massasauga only permits site specific camping. We originally booked for 6 nights, but had to cut it back 2 days as one of our paddlers had to be back for another commitment. We also picked June 27 as our launch date. Our paddling party included myself, my wife Kathy and two of our sons. And, for the first time, our group included a dog; Vinnie, the Springer Spaniel.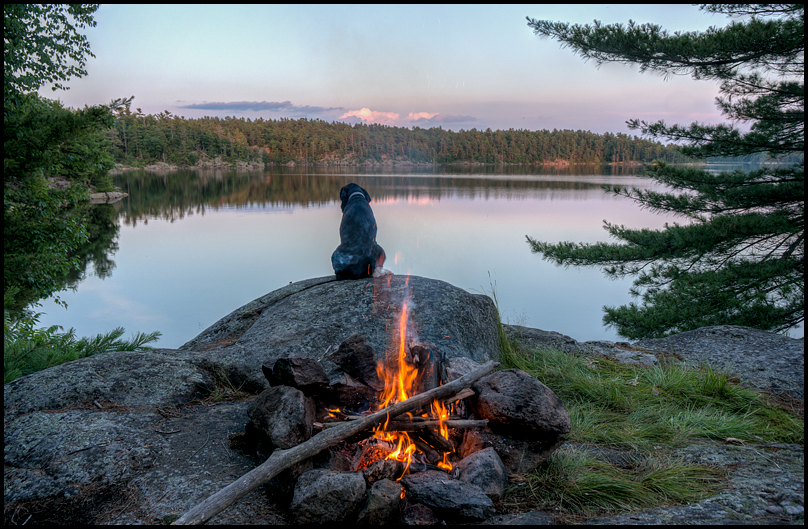 Vinnie's Favourite Perch
We arrived at good time on Saturday morning to register at Oastler Lake Provincial Park. This little park was very busy. We waited for our turn and eventually we were off to the launch. The windy road lead us to the Three Legged Lake access point. Again, the launch area was very crowded and there was a challenge finding a parking spot in the designated area.
Once we launched, it wasn't long before we left the cottage-lined, motorboat filled  Three Legged Lake and proceed on the 370m portage to north arm of Spider Lake. Our destination was site 15.
We arrived at the site and looked it over. Our young canine companion was a city pup so there was some concern about how he would react in the canoe and if he had an encounter with wildlife; particularly, a Massasauga Rattlesnake. Well, we found snakes. Within our first 15minutes on land in the park, we seen 2 large Northern Watersnakes, an Eastern Fox Snake and a Five-lined Skink. It was a very excited few minutes, especially to see the Fox Snake as this was high on our list for seeing on this trip. However, no rattlesnakes.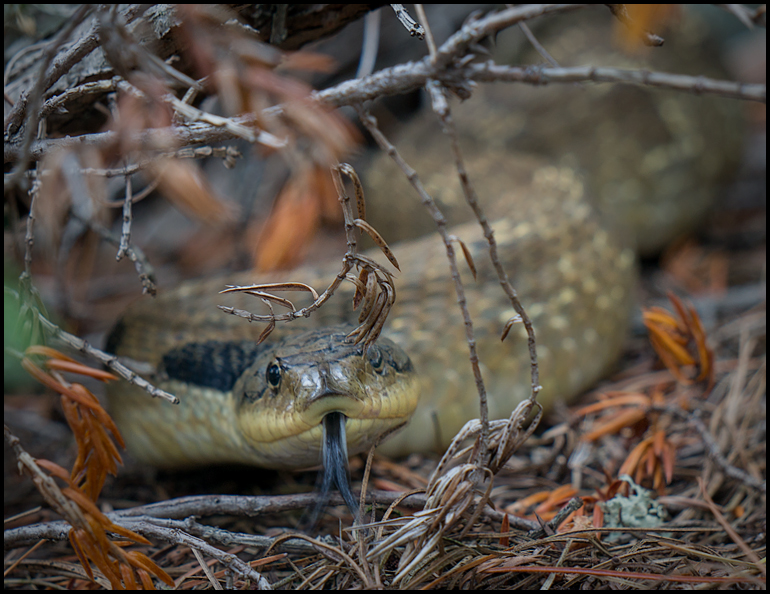 Eastern Fox Snake
The site was small and good tent areas were difficult to find, even for our little 2 man Hubba Hubba. Our other abode was a 4 man MEC Wanderer. We did find a couple of spots quite a ways from the shore and living area. We managed to set up before the rain got too bad. Although it was raining ever so lightly, the ground was reasonable dry and we could enjoy the afternoon on the site. We sat on the shore as other trippers went by and we were entertained by a large snapping turtle who hung out in our area for the rest of the day. It was a lovely evening around the fire as we settled in for our first night of the trip.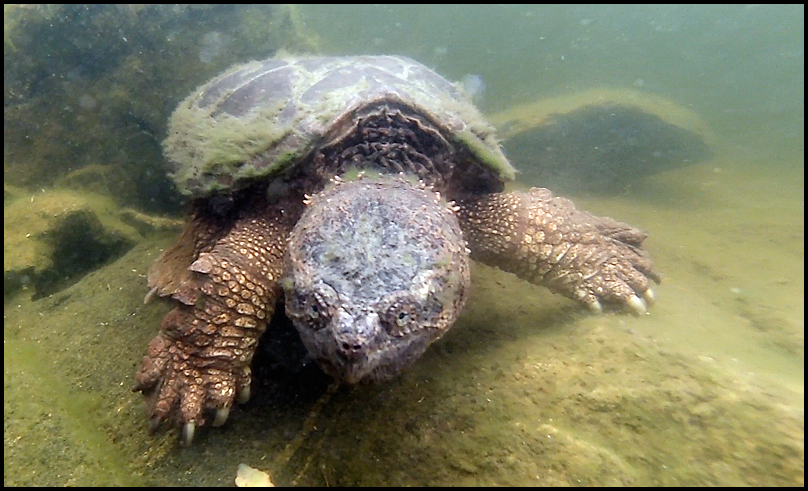 Snapping Turtle (Screen Grab from GoPro)
The following morning was dark with a thick overcast. With site 200 as our next site, we packed up and headed out of Spider Lake and into Spider Bay on Lake Huron. We came to our only portage of the day, a small and easy 100m. Well, that's what we thought. A group of  9 consisting of 3 adults and 6 teenagers; all female we coming from the bay. They told us that we would have to wade knee deep in the swampy shore for about 20 metres before we could get into the canoe and start paddling. We made our way to the end of the portage and looked at what we had to deal with. However, on the return, we noticed a log stretched right across the path. Since it looked odd, we questioned it and soon concluded that it was put there on purpose and, perhaps this isn't the right way to go. Down the second path, we found the correct landing that was wide open and easy to launch. The 100m turned to a 300m as we had to retrieve our first load at the wrong end. But at least we didn't have to wade into the muddy swamp.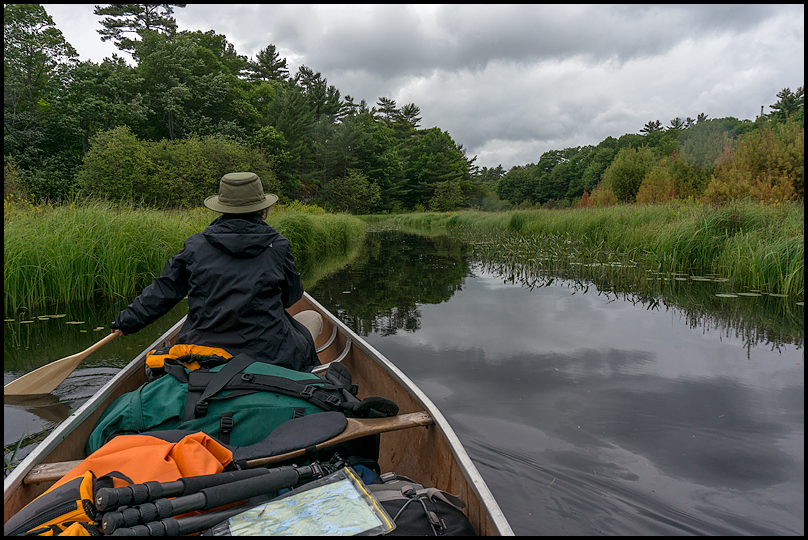 Paddling into Spider Bay
The landscape changed dramatically once we left the inner lakes. It was more like what we would expect on Georgian Bay with rock islands, wind carved trees and, unfortunately, motorboats and cottages. At least we were heading to a small private bay with one lone site, number 200.
As we entered our bay, the sky became dark and it started to pour. And pour. We had no choice to set up in the pouring rain as it wasn't about to slow down any time soon. Our site was ridiculously small and we had to set up both tents and a tarp in a tiny area. There was no room for the second tarp, so we could only put in on the ground. This was not to be a great day as it rained all day and night. We were stuck under a small tarp slapping mosquitoes as they preyed on our disadvantage. It was impossible to have a campfire and marked another first as it was the first time in 20 years that we couldn't have a fire because of the weather in the interior (only other time was during a fire ban). The combination of the rain and mosquitoes drove us into an early night. We regretted not bringing our bug net attachment of our Eureka Backpacker Tarp that night.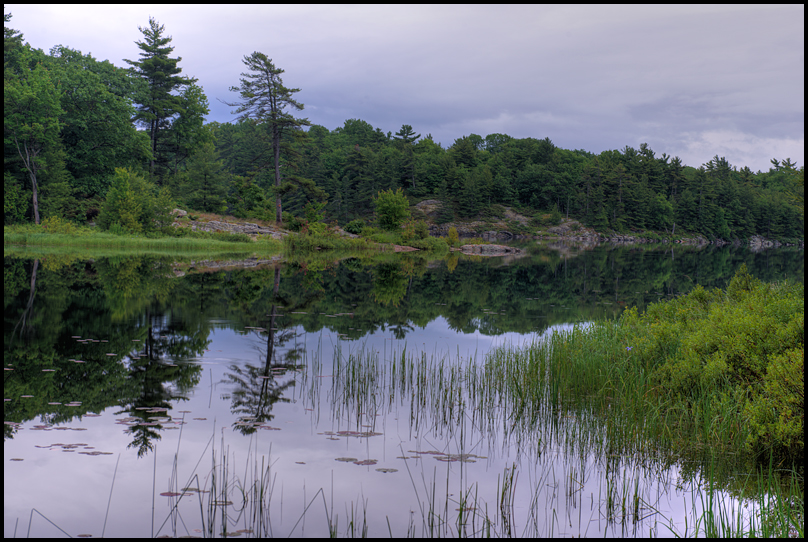 Grey Skies Over Our Little Bay
The next morning as it started to get light, the sound of the rain continued on our tent. It's very hard to get out of a dry tent and out into the rain. But, sometimes, you have to do it. We were all a little down that morning as we packed up. We looked at the map and assumed that our next site would be in another area that would be infested in bugs. Since we had to shave off a day or two anyways, and the fact that areas in the park had a phone signal, we decided to change our route a bit.  We found out that all the sites in Clear Bay were occupied and grabbed up site 207 on Vanderdassen Bay. We were worried that, since it was the only site open in the area, it could be a crappy site. But it was a chance we had to take.
Our current site only faced east and the skies were dark and dreary. It looked like another day of rain. However, when we got out of our little bay and could see the sky over Georgian Bay, there was a glimmer of hope as the horizon had a narrow strip blue sky. Leaving Spider Bay, we entered Goose Neck Bay towards the easy 235m portage to Three Finger Bay. The landscape was beautiful in this area. We paddled between Cow Island and Matthews Island to Vanderdassen Bay. All the campsites in this area had motorboats. We were the lone canoes.
To our surprise, Site 207 was great and turned out to, unanimously, be our favourite site of the trip. It had three large tent pads, 3 fireplaces, a small bay behind us, a beach for swimming and a glorious rock shore to sit high over the bay and enjoy the fire. The sun finally broke through and the day amazing. It was so nice after over spending 48 hours in the pouring rain. We swam, relaxed, enjoyed a few beverages and Vinnie had the time of his life swimming and fetching the ball in the water.
The evening was still with a 4/5th moon rising over the bay. When darkness prevailed, the mosquitoes were, again, on the prowl. But, before we called it a night, we were serenaded by a group of loons who danced across the waters under the light of the near-full moon.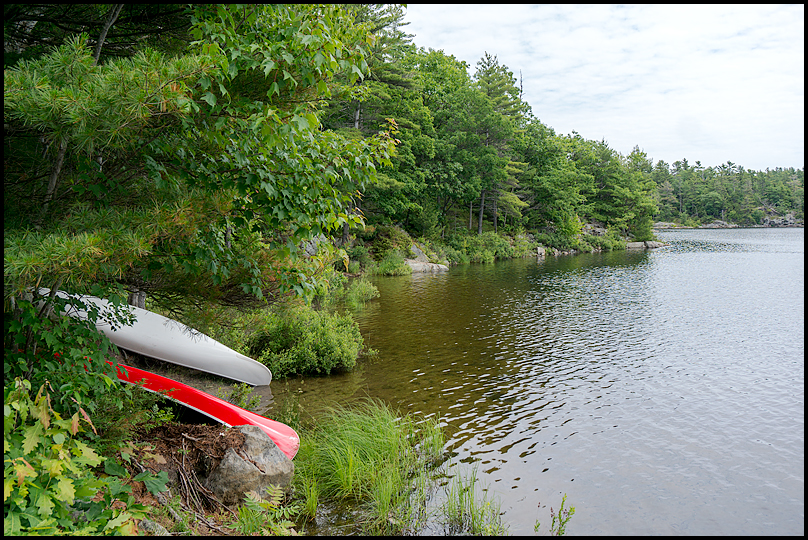 Vanderdassen Bay
The next morning, the weather was nice. We packed up and headed back into Clear Bay to the 780m portage into the bottom of Spider Lake. The rain took it's toll on the path as we had to push our way through wet black mud, over the tops of our boots. The portage was a mess. Along the path we seen several paw prints that had to have come from a very large Black Bear. There were also deer tracks that were going in the same direction. Unfortunately, ( or fortunately for some), there were no sightings of either creatures. Once we got to Spider Lake, it was a short paddle to site 24. This was the other site we  changed and, again, the only one open in the whole southern part of Spider Lake. It was a very nice site with a lovely living area and a great shore to sit, relax, swim and enjoy our last evening fire of the trip. The weather was nice for the rest of the day as we watched the big puffy clouds float by.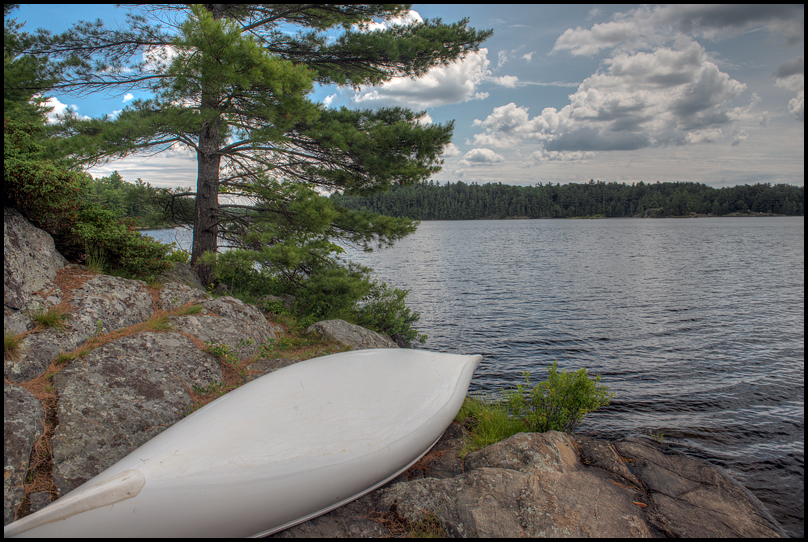 South Bay on Spider Lake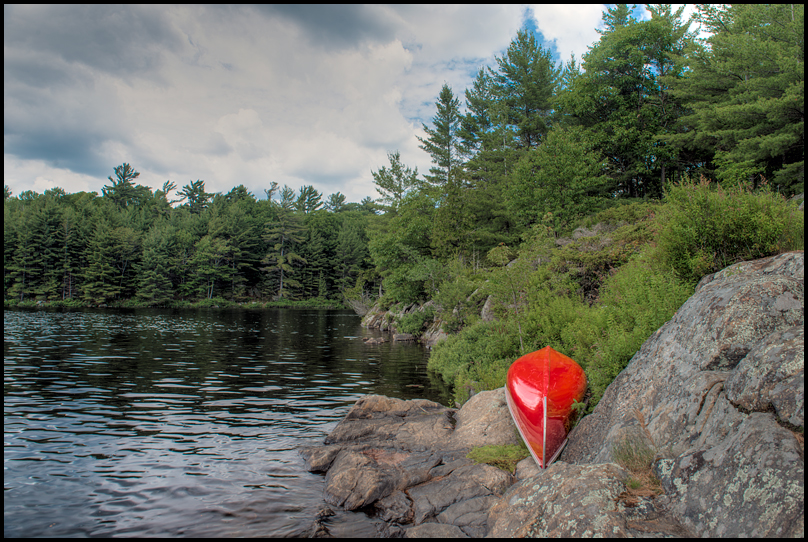 South Bay on Spider Lake
During the night, it start to pour. It rained buckets all night and into the morning. It was another morning of crawling out into the pouring rain. My boots were soaked and filled with water as the fly had blown off the rock that was holding it. Everyone dressed in full rain gear, we forfeited our morning coffee and packed up our completely soaked gear in the heavy rain.
After going through the narrows out of south Spider Lake, we were in familiar territory and headed back to the portage that would lead us to Three Legged Lake and the access point.
This trip was definitely a wet one. It was a Massa-Soggy trip indeed. The lows of the trip would have to be the weather and the incredible amount of mosquitoes that are around this time of year. The highlights, to me, were the reptile sightings of the first day. The highlight as a group was the great time we spent together. No rain or bugs could take away that.