French & the Fox Canoe Trip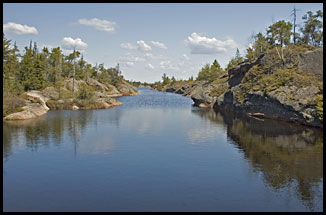 As in our previous trips to the French River Provincial Park, the prelude was a night at Grundy Lake Provincial Park. Many Provincial parks had an alcohol ban. We were relieved to find out that Grundy was excluded from the list of prohibition as we had 1 ½ dozen of ice cold Guiness to enjoy before the trip. It would have to be Yukon Jack, Brandy & vodka beyond this point. We sat under the tarp, protected from the constant drizzle and got psyched up the expedition.   We arose early the next morning and headed out to Hartley Bay Marina. After paying our dues, we launched our vessels and headed towards Wanapitei Bay. Half way down Wanapitei Bay, we veered left through the Tug Channel and down the French River Eastern Channel. The wind really started to pick up. I was solo in our party of three and the wind was holding me back. The lack of weight in the front of my canoe contributed in making it a tough day of paddling. Tomorrow, weight distribution will be high on the to-do list. We decided to spend the night at the Elbow and landed on the southeast site. It was a nice large site, sheltered from the wind.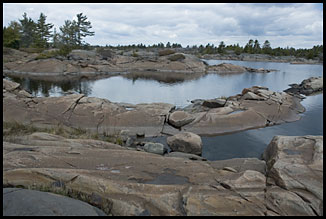 In the morning, I was relieved to see that the wind was now on our backs. We paddled to Bass Lake to the P240 tramway at the Rainbow Cottages. We renamed the tramway the "Rainbow Bridge" that will lead us to Asgaard. And a paradise it was.   Our second and third night was on Obstacle Island. The site was gorgeous, nestled in a cedar grove with spectacular views every which way you look. I spent much of my free time photographing the surrounding beauty and my fellow paddlers, Scotty & Jay tried their luck fishing. Fishing turned out to be slow and they only landed two pike. Although the fishing season was not open yet in the French River until May 21st, it was open starting May 1st in Georgian Bay.   Our next day of travel brought us into the more open waters of Georgian Bay. The weather was on our side and the bay was very calm as we traveled toward Fox Bay. Just inside the Bay, we were greeted by a black bear who was busy feeding on the shoreline of a small island. It was obvious that he was famished from his long winter slumber. We stopped and looked at him, while he stopped and looked at us. It's moments like these that makes these trips so worthwhile.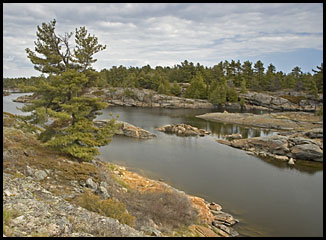 We continued and eventually grabbed a campsite at the end of Vixen Island. It was another gem of site; a sheltered cubby whole with our own private lagoon. The beautiful still waters beaconed us to go for a swim. It was a very short swim as it was the early May waters of Georgian Bay was icy cold. Refreshing nonetheless. We decided to spend two nights here as well. This was a very relaxing trip indeed.   On the sixth day we traveled to Fox Creek, heading north to the first unmarked portage. Although the portage was easy, we could tell it wasn't used frequently. Once past the portage, we arrived in an area that was rugged and natural. It was obvious that the destructive hand of man had not yet altered this wild area. It was haunting yet beautiful scenery.   With the wind on our backs, we just let the breeze push us up the river. It was warm and sunny. Our laziness contributed to us missing our turn and we drifted further up the creek than we had intended. When we realized our error, we looked for a quick fix that we could utilize; a short portage over a narrow strip of land. But it was impossible as it had cliffs all along the other shoreline. We ended up paddling back to our missed turn and continued through Fox Lake and beyond. At this point, a ominous thunderstorm was brewing to the north and was rapidly heading our way. We pulled into a sheltered bay and lucked upon a sweet, yet rugged campsite. It had a nice fireplace set up and a comfortable tent spot. The recent warm days that we thoroughly  enjoyed didn't come without a price. It also brought out the blackflies and mosquitoes. Yet, it was nothing bug hats could handle.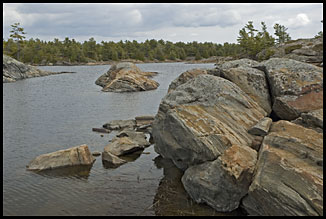 Since we were now away from Georgian Bay, fishing season wasn't open until midnight. That evening we sat around the fire, enjoying refreshments and discussed our options. We decide that we would stay one more night on the Fox and try our luck fishing. I woke up first and pretty much went straight to my canoe. I hit the still waters early, casting my Mepps 5 around our bay. I landed seven pike before stopping for morning coffee. I spread the good news of my angling success and we all had a very productive day.   As I was fishing in a small bay, I heard a loud rustle of leaves in a valley at the opening of the bay. I noticed that the trees were shaking and the leaves were flying up in the air. A small, yet powerful twister emerged from the shoreline and hit the water causing a 3 foot funnel of water shooting from the surface and water spraying up and all around the twister. At first I was in awe and amazed by the spectacle I was witnessing. My amazement suddenly turned to fear as the twister headed straight towards me and sucked me in. There I was, locked in the twister, hanging on to the canoe gunnels with both hands and experiencing a ride of a lifetime. It spit me out as fast as it sucked me in, and continued across the river, leaving me shaken, soaked, hatless, with nearly six inched of water at the bottom of my canoe. I then sat in the calm of the water and said, out loud, "What the hell was that?"   Although catch and release is our standard practice, a couple of pike had been overly aggressive towards our bait and didn't survive the removing of the hooks. We chose these two victims for our evening supper. What a meal!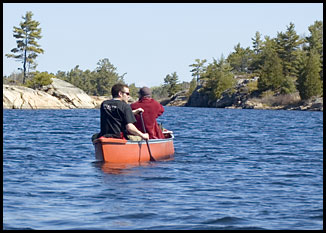 We left camp in the morning and headed up Fox Creek. About a kilometer up the way, we found my hat that the twister had stolen the day before, floating in the water. I grabbed it, shook it off and put it back on my head.   Once we crossed two easy portages, we reached Pickerel Bay. Right there, I would have to say that our trip ended. It was Sunday of the long weekend in May, opening weekend for fishing, and all the way to Hartey Bay, there were many dozens of motor boats zooming all around us. Not a single on slowed down as they approached our canoes. It was quite a contrast from the last seven days of quiet solitude and natural beauty.