The Brent Run
I have been eyeing the Brent Run Canoe Trip for quite a few years, looking for tripping companions that were up to the challenge. 160 km of travelling, 46 portages, 10 days in the interior, from Canoe Lake to Brent and return.

The Brent Run has a history as a type of race with time. Participants have done the trip, without stopping, paddling and portaging through the night. Such trips have been accomplished in ridiculous times such as less than 30 hours. For us, 9 nights was a better way to enjoy the wilderness, beauty and tranquility of this lengthy endeavour.

This was finally the year.  We assembled a team consisting of myself, 2 of my sons: Scotty & Marc and Ken, a friend and seasoned paddler. We all had tripping experience and we were all full of enthusiasm so I knew it was going to be a great trip.

To plan for a 10 day trip is a challenge in its self. Food for 4 people included 40 granola bars, 20 Eatmore Bars, 900g of coffee, refreshments (bush cocktails), dried fruits, 10 breakfasts, 10 lunches and 9 suppers.  I was dehydrating for weeks before the trip.  Since most bread products wouldn't last for more than a few days, we decided to make bannock in the last half of the trip. Planning is also necessary to make sure we have everything we need before we left and, since the trip is physically challenging, make sure we only bring what we need and no duplication. This part was very successful as we were very well prepared and organized.

To reduce the need to take away from our scarce supply of vacation days, we decided to head up to the park on Thursday night and stay at Cannisbay Campground. This would let us take advantage of an early morning start. Circumstances made it impossible to get to the park early and we finally arrived at the campground at 2:00 AM.
Friday morning we registered and launched at the Canoe Lake access point. Our first night destination was Little Otterslide Lake. But first we had to paddle through Canoe Lake, Joe Lake, Baby Joe Lake and Burnt Island Lake which are connected with 5 portages.

Canoe Lake is full of cottages and motorboats, so we obviously wanted to get the medium sized lake behind us as soon as possible. At the end of the Canoe is the busiest portage in the park, going around a dam. The portage is an easy 295m (m=metre) that leads to the popular Joe Lake.  This area has quite a few organized camps and it sees a lot of traffic. The next portage was a 165m, but the water was high enough for us to just paddle on through. 2 more portages 495m and 200m and we were in Burnt Island Lake. Burnt Island is a fairly large lake with many bays and peninsulas. Our final portage was a 790 metre trail to Little Otterslide. We grabbed a nice site on the island and prepared for our first night in the interior.  This is where we first realized that none of us brought a watch or clock with them.  For the most part of the trip, the sun was our guide for estimating the time. A delicious pasta supper, a few cocktails and we were ready to relax around the campfire.

On day 2 we travelled from Little Otterslide to Otterslide Lake and down the very scenic and winding Otterslide Creek with its beaver dam lift overs and 5 muddy portages. The portages on the creek were 250m, 390m, 265m, 730m and 105m. At the end of the second portage was a young cow moose. At the third portage we meet 2 guys that were doing the traditional Brent Run Race and were 30 hours into their trip; hats off to you guys.

The creek led us to the large but beautiful Big Trout Lake followed by a 300m portage into Longer Lake. We grabbed the first site as we heard it was an excellent spot beside a scenic waterfall.  Scotty & Marc enjoyed a swim in the rapids followed by the less enjoyable session picking off the small leeches.  The sound of the waterfall was wonderful while we sat around the fire and it made for a relaxing background while we were sleeping.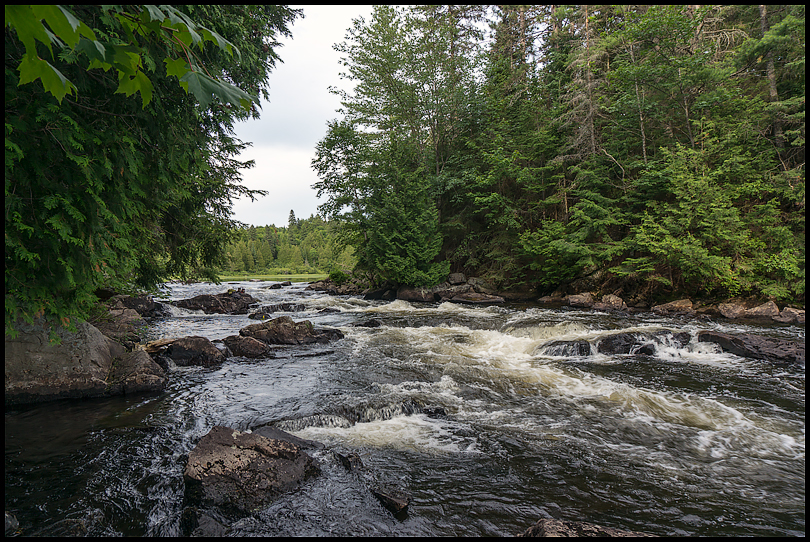 Day three was planned to be an easy day to help us recuperate from the more strenuous first two. We paddled north on Longer Lake, which, by the way, was longer than we thought.  We than travelled, with  the current, down the Petawawa River with a Poison Ivy lined 45m portage and a very steep 75m portage. Scotty & Marc scouted the last portage and successfully paddled the rapids while Ken and I did the portage. We probably should have run it too.  Along way, we saw bald eagles, Sharp-shinned Hawks, Moose, Cormorants, Great Blues, Beaver families, Merganser families, Loon families and Herring Gull families.  Accidently paddling too close for the Herring Gull's comfort, the parent made many diving attacks on Scotty & Marc as the travelled by the gull's chick. Although frogs were abundant, we noticed a strange lack of reptile sightings during our 10 day expedition. Snakes were rare and, surprisingly, we didn't see a single turtle sunning on a rock or log; just a couple of swimming snappers.   

We entered Burntroot Lake, another large but scenic body of water with an abundance of bays and islands. With the wind on our backs, we travelled to the far end of the lake and picked an excellent campsite on an island, set up with a rock-walled countertop, a raised fireplace and comfortable seating. The mice seemed to like this site as well.
On a trip like this, we never talked about the day in its day of the week context. It was simply Day one, Day Two, etc. The actual day of the week had no relevance.  Time of the day had a lot less relevance as well. It was just "time to get up", "time to eat", "time for a shot of Yukon Jack ", "1 hour from sunset (15min per finger width)", and "I'm tired - time for bed". And if we had to, we could turn on the GPS and check the actual time. But we rarely did.

On day four we headed to Catfish Lake via Perley Lake and the Petawawa River. 5 portages included a 155m between Burntroot and Perley, a 420m into the Petawawa and a 90m, 320m and 65m along the river. Although we had planned to travel to the top of the lake to find a site, we quickly changed that plan when we approached an enticing Island campsite at the south end. It was the perfect site in so many ways. Checking one of our maps, we saw that it was aptly named Shangri-La.  High on the island was the fireplace and tent areas with a spectacular view. The shoreline on the west was all smooth rock, prefect for swimming and relaxing. The north side had high cliffs for another nice view. The rocks were also the perfect spot for stargazing. Marc had an app on his cell phone that identified stars, constellations and planets and he brought it along just for that purpose (no signal and limited battery so it couldn't fill much other purpose).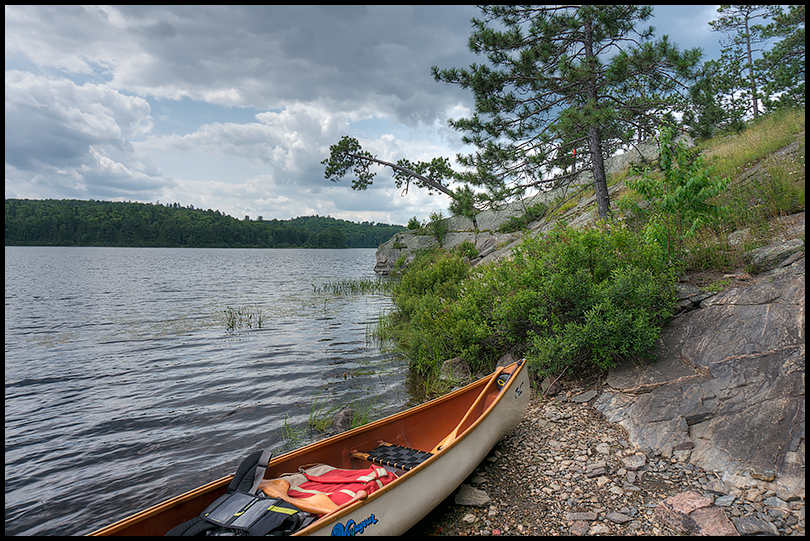 Our plan was to stay on Catfish for 2 nights and make Day 5 into a trip to Brent Station, returning to the same site. This way we could travel without most of our gear and eliminate the need to take down and set up our site on the next day. This was great in theory, but I think we underestimated the extent of the day trip, especially since we were at the bottom of Catfish Lake. Brent and returned was a full day with a distance of about 32km which included 10 portages totalling 7,130 metres, the longest being 2,345 metres (which had to be done twice: on the way and return). To add to this, the wind picked up and we had to travel against the wind across the very rough Cedar Lake and white-capped waves and powerful gusts on Catfish Lake on our return.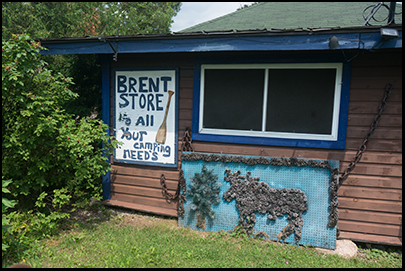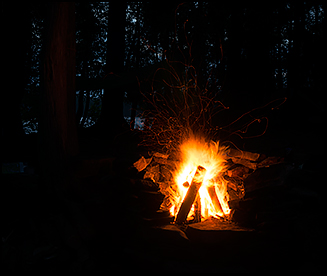 We had visions of large scooped ice cream cones and ice cold drinks which we were planning on enjoying at the Brent Store. The reality was downsized as all they had was no-name ice cream bars and popsicles. The pop seemed to have been recently put in the fridge as they certainly were not as cold as we expected.  Nonetheless, it was a very interesting store with its antique and unique camping equipment.  Tired and sore, we finally made it back to our beautiful Shangri-La. It was a very tough day.

The evenings on Shangri-La were exceptional with spectacular night sky viewing accompanied by loons calling and bullfrogs croaking. Each night at dusk, a family of Great-Grey Owls (guessing by the juvenile sounds as we could just see silhouettes) would take flight and circle above us landing from tree to tree to get a better view of us. The younger one was very vocal and it stayed around us all night while it appeared that the adults and the more mature ones went out to hunt.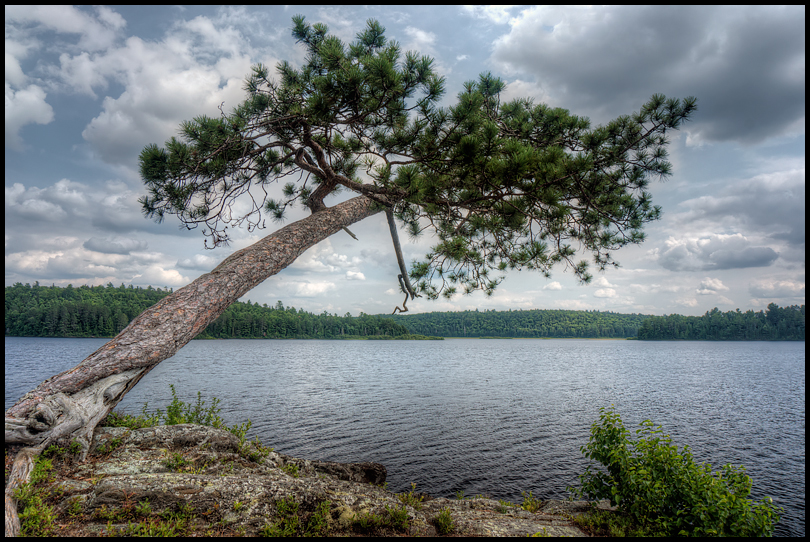 Day six was the start of the return part of the trip. While we enjoyed the downstream flow of the water ways and a tail wind on most lakes on the first half of the expedition, the return trip we knew was going to be a little tougher. We planned the return trip to the south in a way that we would be staying in different lakes than on the north travel. The total portages remain the same yet the "per day" changed.  On day six we left Catfish and travelled up the Petawawa, through Perley Lake, Burntroot Lake (Portages 365m, 320m, 90m, 420m, 155m) and staying in Red Pine Bay (this is called Red Pine Lake on the topo map).  The site we chose on Red Pine was another real winner with amazing views all around and a sheltered fireplace and kitchen. It was a very windy day.  We set up camp and enjoyed hummus wraps for a late lunch. For dinner we had a recipe from a book that we hadn't yet tried before. Well, it was horrible and couldn't be saved. Instead, we made our first attempt at making bannock.  The bannock was a huge success; fresh bread with raisins, cranberries, cinnamon and brown sugar. I was glad I packed 6 large portions as we enjoyed bannock each evening for the rest of the trip.  The skies cleared up at dusk and it was another great night for stargazing.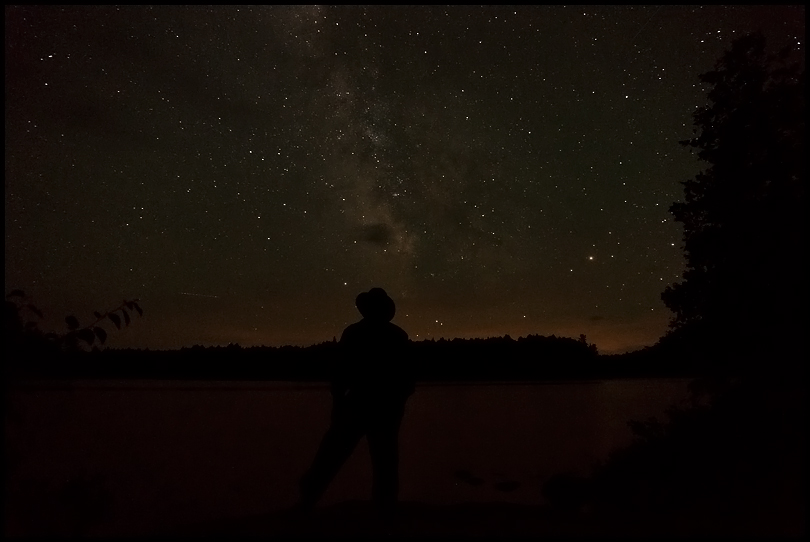 We left Red Pine Bay (Lake) on the morning of day seven and portaged (75m & 40m) to Longer Lake and a 300m portage into Big Trout Lake.  It took us a bit to find a good sight and finally settled on a site we overlooked on the way by. It turned out to be another sweet sight at the bottom of Big Trout, high on a rock with a terrific view. We spent the afternoon relaxing, swimming and washing our clothes by rubbing them on the rocks. We NEVER bring soap into the interior. You would be surprised how well sand works for cleaning. And if sand isn't available, pine needles work almost as good.  

This area seemed to be the favourite hangout for Loons. We had a group of seven loons swimming around, sometimes all together or split into smaller groups. Just about any time, we could look at the water and see a Loon or two a few feet from our shore.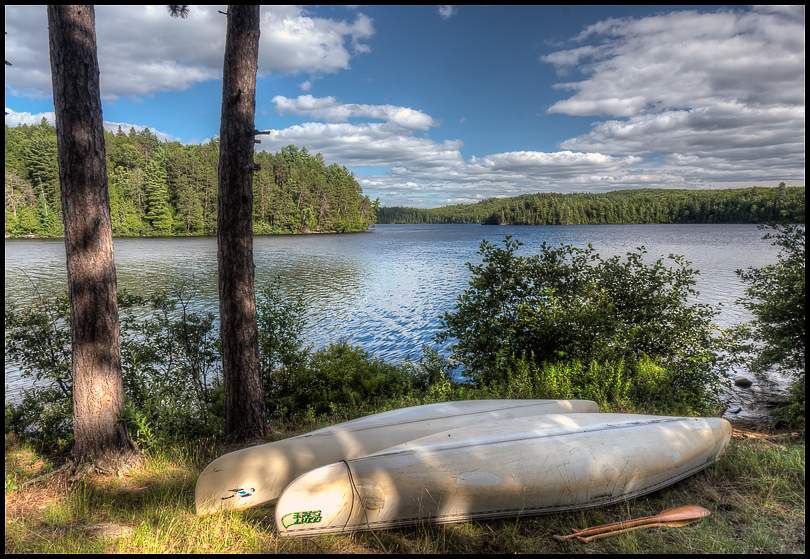 Day eight, from Big Trout Lake, it was back up Otterslide Creek with its 5 portages and multiple beaver dam lift overs. Our destination was Otterslide Lake. We picked a nice large sight. During the last 5 days, we hardly saw any other people accept at the area near the Brent Access. Maybe one canoe group per day, paddling in the distance.

The ninth day, we travelled from Otterslide through Little Otterslide and took the 790m portage into Burnt Island Lake.  That portage seemed to be the borderline. As we travelled closer to the access point, we noticed how this area was much busier. There were many paddlers in groups of four or more on Burnt Island. One group had 26 people!

We left the main traffic area and headed for the bay at the south east end of the lake and tried to find a secluded site. Again, we were pleased with our choice of campsite.

The final night of the trip was pretty dramatic. As we were finishing up with our bannock, we proceeded to start a fire. We noticed a flash of lightning coming from the south followed by thunder about 12 seconds later. Since sound travels at about 1km every 3 seconds, we estimated the storm about 4 km away and hoped it would just pass us by to the south. However, a few seconds later, the sky opened up and the rain came down in buckets. It caught us off guard. After cleaning up the site, getting bags and clothes away, we were all soaked. We stayed under the low hanging tarp, while the rain continued to pour. After a while we accepted that it wasn't going to stop and decide to call it a night.

To my dismay, I found my tent to be flooded in some areas to the point where the loose vegetation on the tent floor was floating. All the clothes out of the dry bag were soaked. The rain was heavy throughout the night. My mattress was above the waterline, so there I lay with my head on my vinyl dry bag, feeling a drip coming through the leaking seams every now and then.  I didn't get a lot of sleep that night.

During the night we heard some very loud noises that sounded much like to huge rocks smashing together. It was the sound of a tree starting to crack. The weight of the rain must have been too much for it. The cracks were a few minutes apart and finally a huge crack followed by the most horrifying sound to hear while you are in the pitch darkness of a flimsy tent. A huge tree came down somewhere in the backyard of our campsite, crashing through the vegetation taking limbs and small trees with it. Marc and I got out of our tents to make sure all was alright. Marc turned on his cellphone. It was 3:30am.

We were wet and tired. Marc decided to leave his phone on and with the little battery power he had left, set an alarm for 6:00AM as we had a very long day ahead of us. Four last portages, 5 lakes and a long drive home to follow.

At 6, Marc announced the wakeup call. We packed up out soaking wet gear in record time and headed south to the portage between Burnt Island Lake and Baby Joe. We had a slight breeze on us blowing the misty rain on our faces. The sky was dark and with the mist, it was actually quite beautiful. As we headed south, things started to change.  Lodges, Fully utilized campsites, boys camps, girls camps, motorboats, sail boats, cottages and canoes zigzagging everywhere, coming at us without direction. We knew we were on our way out.

The trip ended very quickly leaving us no time to readjust. Although it was nice to be reunited with our Loved Ones, it is a bit of a shock to the system. Clean shaven, dress shirts or hard hats, we all have to be back to work in the morning.  However, I know every one of us will be looking at the maps tomorrow, scouting out the next trip.