Early Fall in Algonquin Park, September 2023
It was great to be back in Algonquin. The weather we have experienced on this trip was nothing like any of our past early fall trips. We had unseasonably warm temperatures with full sun through out most of the days. It is actually a little scary. It was great weather for hiking and paddling, but not so great for photography with the harsh contrast of the sun and shade.
The nights were also gorgeous, with the last super moon of year peaking half way through our visit making those evenings around the campfire even more enjoyable. Early mornings were perfect time for hiking as the temperatures were much more comfortable and the trails were much less busy.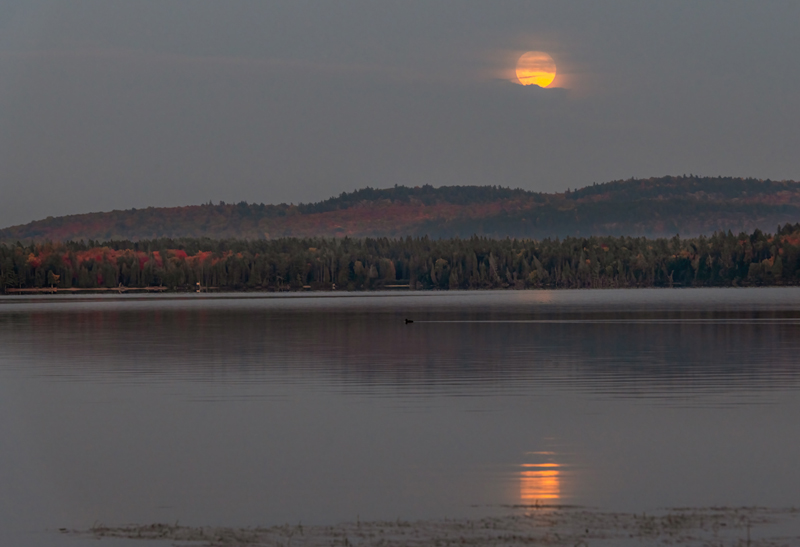 Super Harvest Moon Rising Over Lake of Two Rivers
We paddled the beautiful calm Madawaska River. The shores were full of birds, most of which were stopping in Algonquin on their migration down south. Algonquin provides a perfect area for birds to forage and fuel up during their long flights. The Rusty Blackbird population is in serious decline. It was so great to see small flocks of them on the shorelines and along the rivers. On our paddles and hikes we seen a variety of bird species included American Pipits, Horned Larks, Catbirds, Merlins, Flickers, Wood Ducks, White-crowned and White-throated Sparrows, Kinglets and various warblers. We also seen Algonquin regulars like Chickadees, Creepers, Nuthatches, Jays, Woodpeckers, Ravens and Grouse.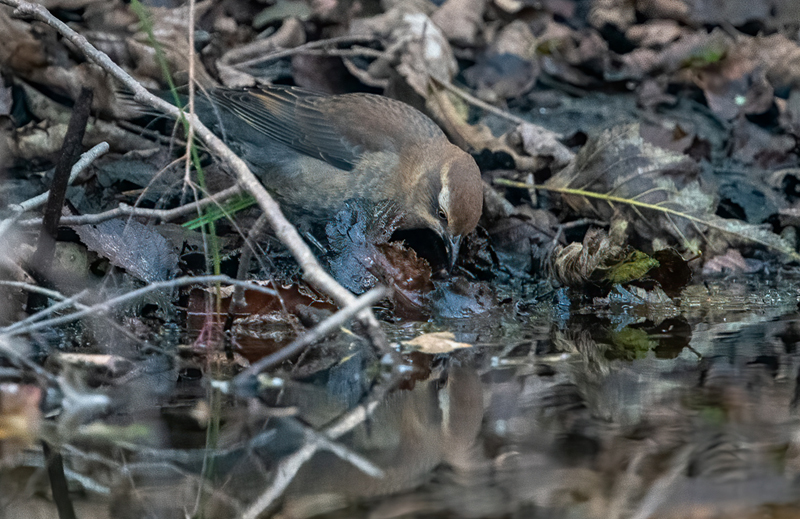 Rusty Blackbird Foraging on the River Shoreline
While paddling, we heard branches breaking back in the forest. A moose perhaps? We quietly turned our canoe around and slowly made our way back upstream to where we thought the noise had come from. Then we heard it again, along the grunting and more thrashing. It had to be a moose. Sure enough, we started to see him through the trees. He then turned towards the river and come out in full view. The big Bull Moose drank some water and slowly eased himself into the river and swam to the other side. It was a magical moment to behold.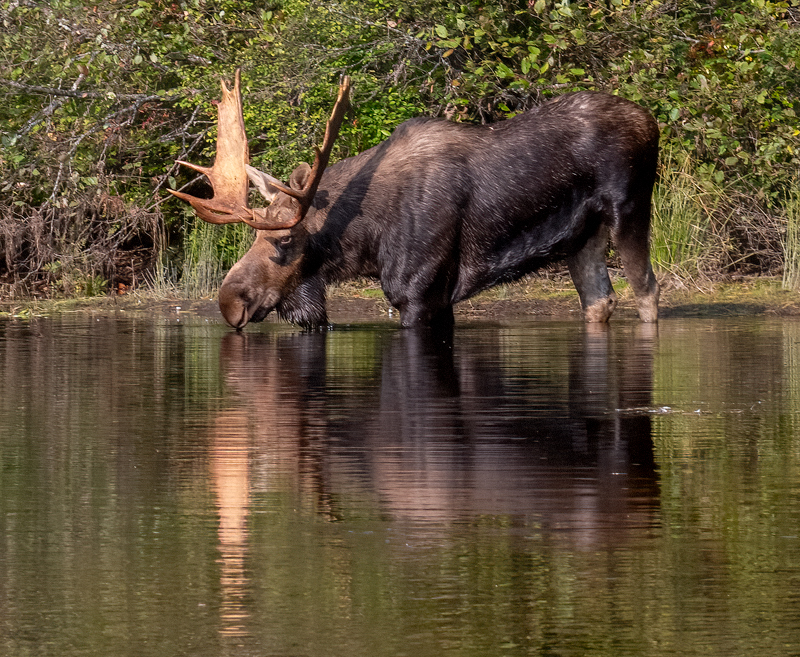 Bull Moose on the Madawaska
A few days later, we were preparing for a hike on the Bat Lake Trail when a pickup pulled in the parking lot a bit too fast. The driver hit brakes and hollered to us that there was a big Bull Moose just up the road. We jumped back into our car and drove a few hundred metres up the road and sure enough, a moose was eating sedge at the side of the road. A few other vehicles stopped and the moose quickly decided to move on, cross the highway and was off into the bush. We were obvious very grateful for the driver for letting us know.
Usually on our fall trips, we meet up with many of our friends who make the pilgrimage to Algonquin to look for moose, share campfires, hikes and paddles and to just socialize at the parking areas or while dining at Mad Musher Restaurant. Unfortunately, most couldn't make it this year and we definitely missed that part of the trip.
Our Algonquin trip was still very special with the amazing weather, beautiful fall colours and wildlife sightings.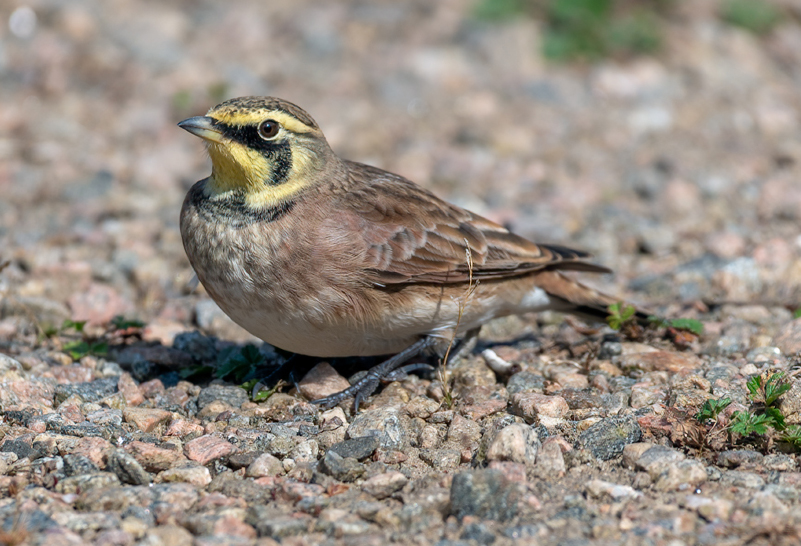 Horned Lark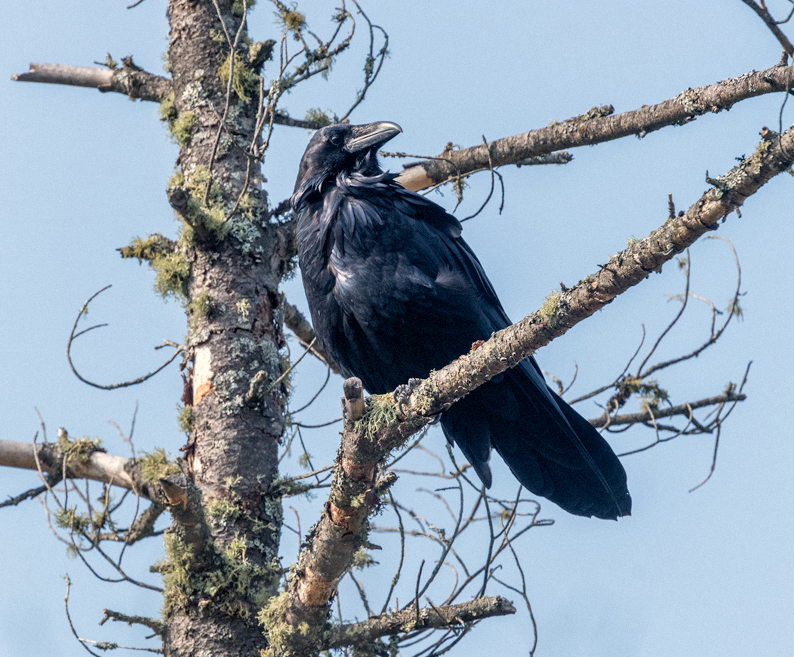 Raven
Juvenile White-crowned Sparrow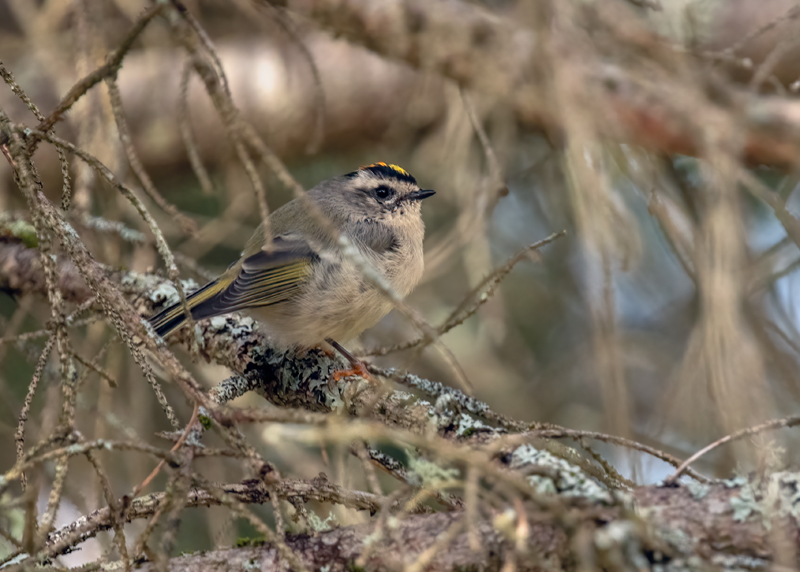 Ruby-crowned Kinglet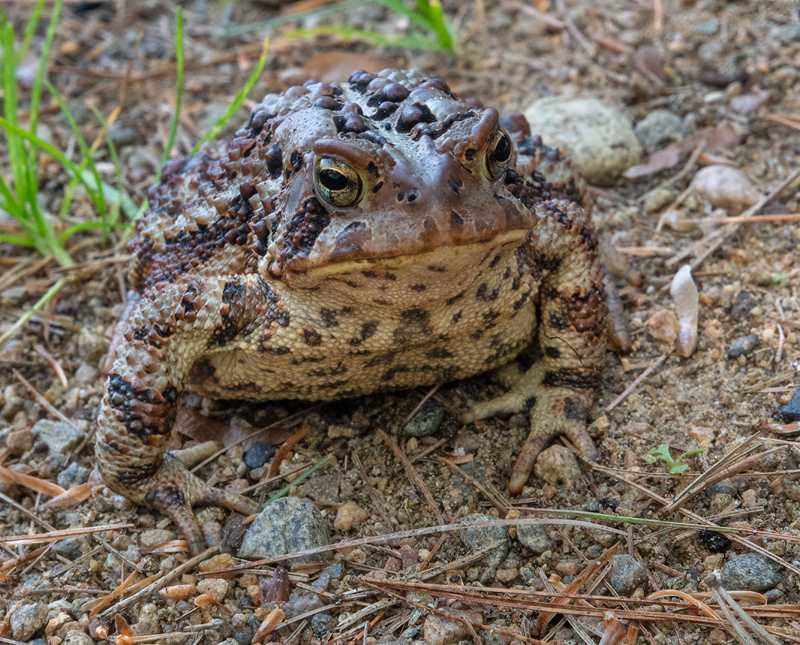 American Toad