Quebec North Shore Tour
PART 5 - GRANDS_JARDINS
As at Havre-Saint-Pierre, we felt a little sadness leaving the amazing Bleuvet Campground. However, sadness quickly dissipated when started getting close to Parc national des Grands-Jardins. Parc national des Grands-Jardins has exceptional landscape with impressive peaks sitting alongside large rolling plateaus covered by the taiga, burnt forest in regeneration, lakes and rivers. Although the park is quite large (319 Sq km), we only had time to visit the Mon Mont-du-Lac-des-Cygnes area and our campground at Camping Le Pied-des-Monts.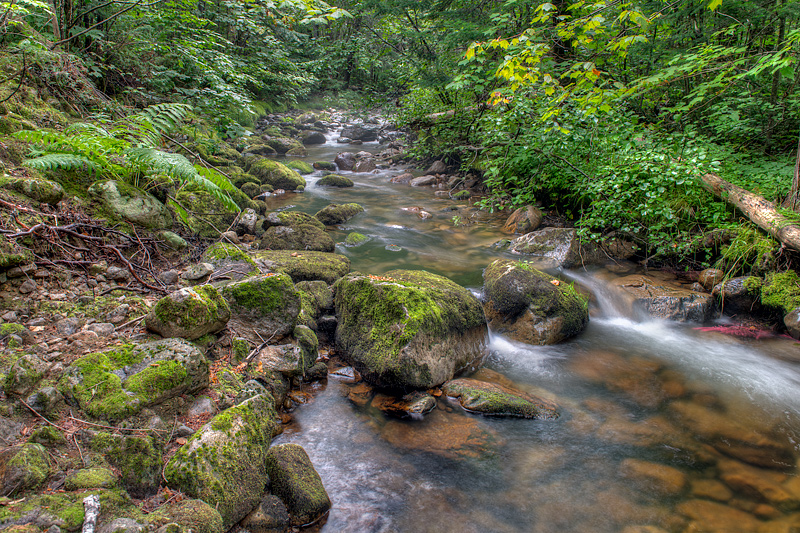 Stream along Le Gros Pin Trail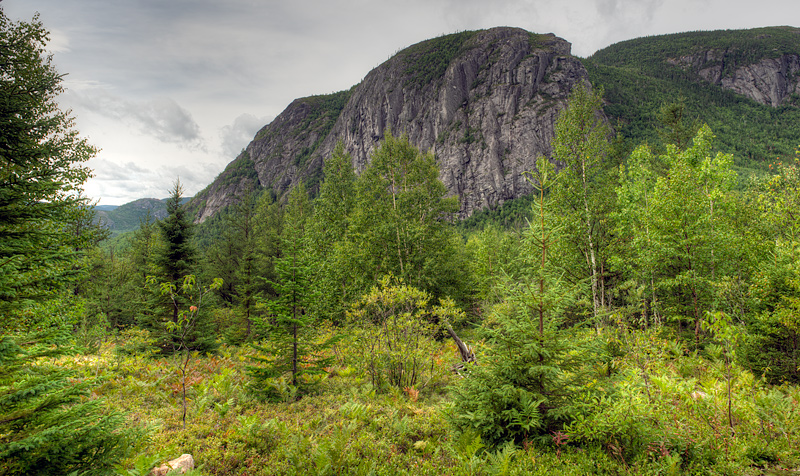 Mont du Lac a Moise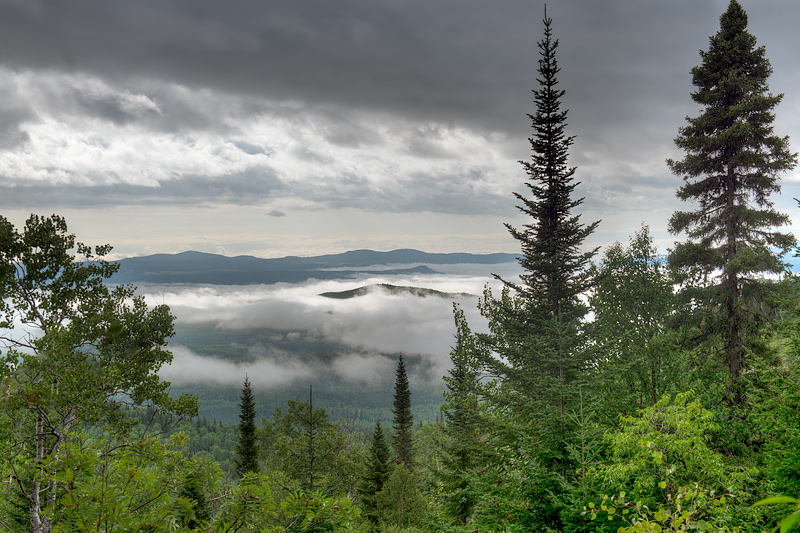 Early Morning on La Chouenne Trail
La Chouenne trail offers a magnificent view of the valley and the walls of Mont du Gros-Bras. The trails was a good steady climb for 3.5km to the 730m high summit, but it was well worth it. The view from the top was breathtaking. The trail past though an Aspen/Birch forest that quickly turned into an alpine landscape as we gained altitude.
Le Gros Pin trail was a nice evening stroll along a forest stream and a view of the Mont du Lac à Moïse. We will have to revisit this park again to explore more of the park's trails, rivers, and the grand garden.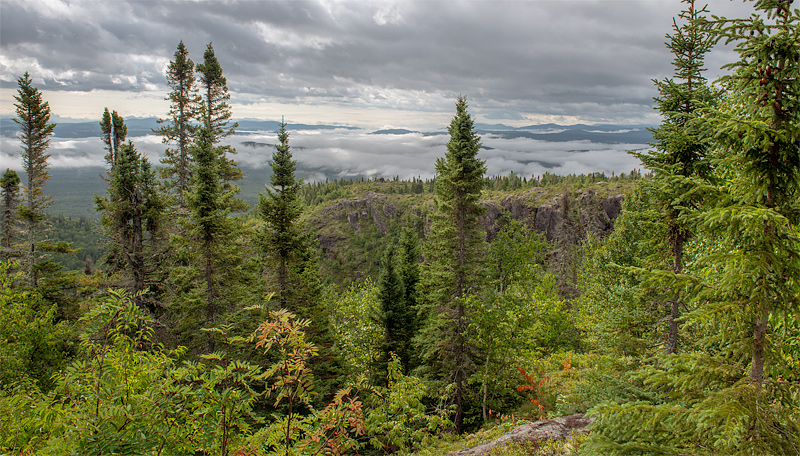 View from La Chouenne Trail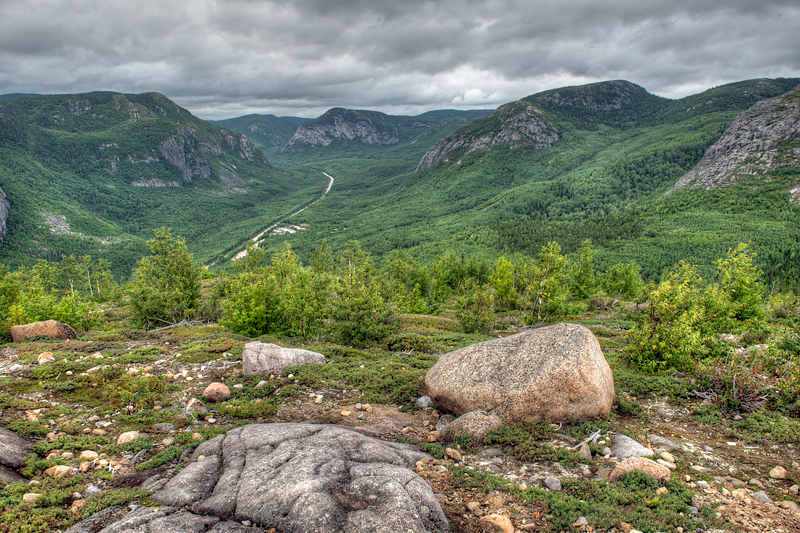 Top of the La Chouenne Trail

A Series of Hills on the Trail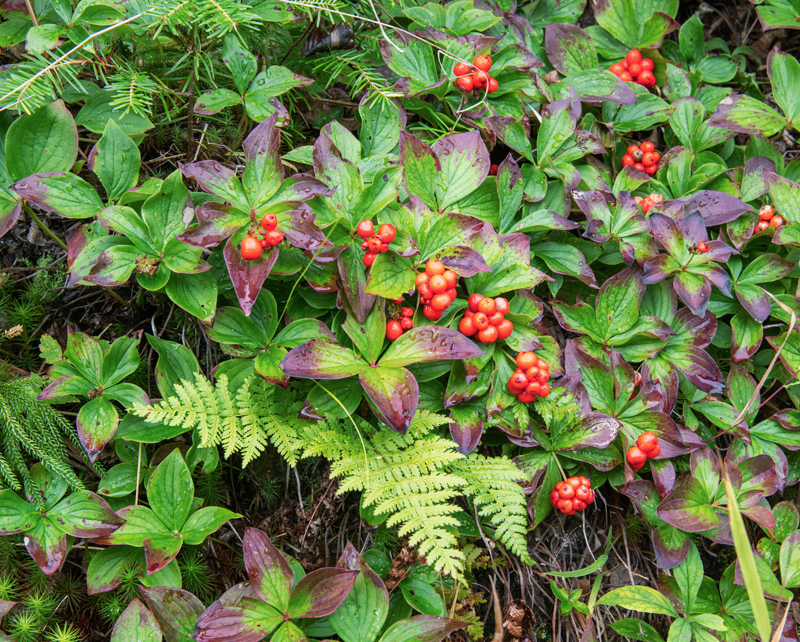 Nature's Garden
SUMMARY
As we pointed out in the intro, we had very little information when we left for this road trip. However, it goes without say that it was way beyond our expectations.
Even though we don't speak or understand French, we had no issues communicating. We picked up a few important words such as glace, bois, bonjour, merci and desolate. But the most important phrase was "Parlez vous Anglais?" Those who spoke even a bare minimum of English were happy to oblidge.
We naturally came across some individuals who did not speak any English, but we never had any issues getting the messages through. At some of the tourist information, we used the google translate to communicate and it worked very well. In other incident, bystanders would step in a translate for us. It was really fantastic.
Camping in Quebec is great. The campgrounds are economical, clean and beautiful. The campers there are very respectful and it is nice and quiet most of the time. It was really nice to have dry firewood.
Dogs are not permitted in most Quebec provincial parks which is important to know if you travel with your pet. Although we aren't against dogs, it was nice to not have to hear them barking all day or meet unleashed dogs on the hiking trails. And, our campsite wasn't littered with dog crap on our arrival. Dogs are great with responsible masters. Unfortunately, not all owners are responsible and some just ignore the basic rules. Sadly, these few irresponsible owners have wrecked for the others.
As you can tell from our trip report, we found the landscape to be truly amazing during our whole trip. The mountains were magnificent; the St. Lawrence was full of life and beauty, the Laurentian and Boreal forests were incredible. The trip will have a lasting effect on us. It was, truly, one of our best road trips ever!