Late August Road Trip: Achray, Sams and Bonnechere
Our spur of the moment trip started with a campsite becoming available at Achray Station in Algonquin Park. We were lucky to get a site for 2 nights (Monday & Tuesday), but hoped to expand it to a few more as Achray has many options for day adventures.
However, before we were off to Achray we had the weekend to spend at Mille Roche Campground on the Long Sault Causeway. Our riverside site faced west and had a nice view with a heavy breeze coming off the St. Lawrence. The park was very active and it seems to be a party place rather than a relaxing location to connect with nature. We checked Achray for cancellations in a hope to extend our visit. A site became available for Sunday, so we abandoned our site and headed for Achray a day early.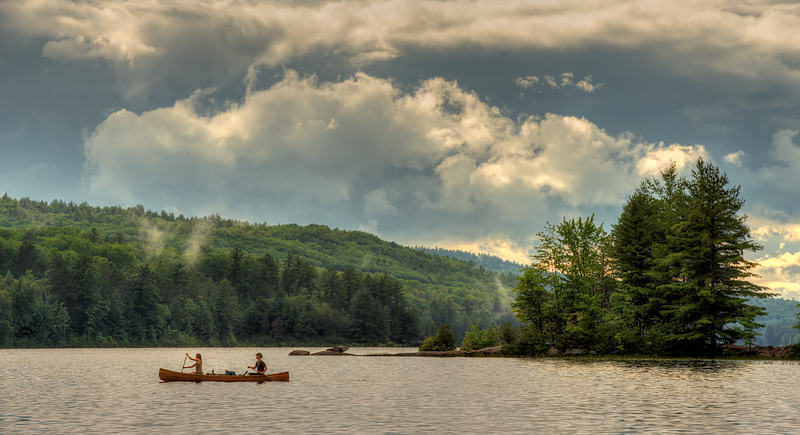 Paddling Under Dramatic Skies (Achray in Algonquin)
Achray is a small campground on the east side of Algonquin Park. It is a great spot to use as a base camp for day trips either hiking or paddling. We hiked around the park trails and did a paddle to the Barron Canyon. There are a few different routes accessible for a day trip to the canyon and we opted to launch at Bingham Lake and travel downstream, returning the same way. We have paddled this river section many times on canoe trips and it is always an amazing place to see.
After spending three nights at Achray, we moved on to Samuel de Champlain Provincial Park. Sam's was busy, but we did have a few sites from which to pick. This was a relief because it had rained all day and many sites were very wet. We picked a small open site next to the boat launch where the sun could dry the surroundings and our drenched equipment.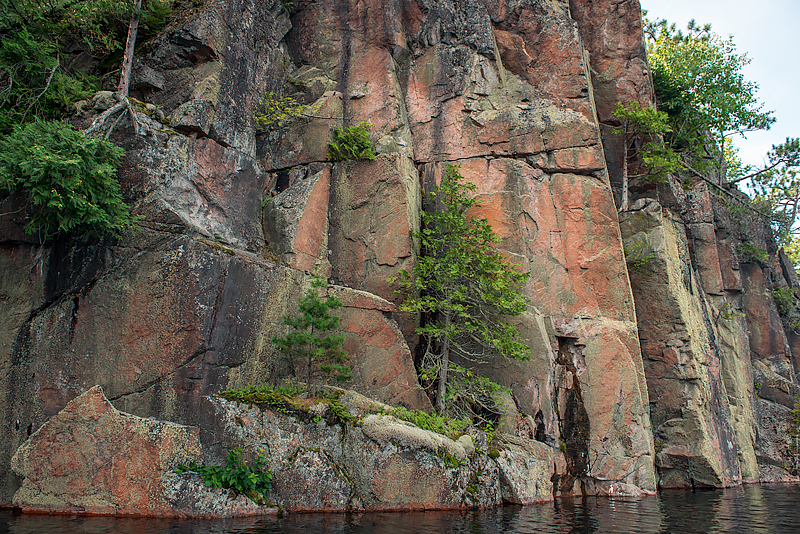 Cliffs on Long Lake (Samuel de Champlain Provincial Park).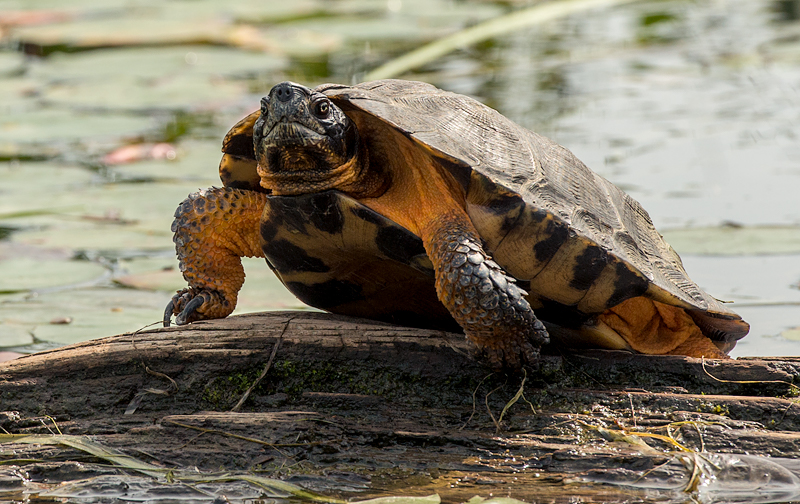 When the Sun came out, so did the turtles (Samuel de Champlain Provincial Park)
It had been 10 years since the last time we camped at Sam's and the park had changed significantly. This year's high water levels may have had a hand in the transformation. When the rain ceased, we headed out for a paddle, travelling across Moore Lake and up the Amable du Fond River. The river was much wider than our last visit. On our return paddle, we enjoyed the wind on our backs as we flowed peacefully with the current. In a side marsh, we spotted three otters that were not comfortable with our presence. One of them climbed on top of a beaver lodge and became quite vocal at our intrusion which prompted us to leave them be. A juvenile Great Blue Heron was also in the marsh, but this bloke couldn't care less about us. The wind pushed our canoe quite close towards the heron, but it ignored us and simply continued hunting, grabbing a frog and then a small fish before wandering deeper into the reeds and out of sight.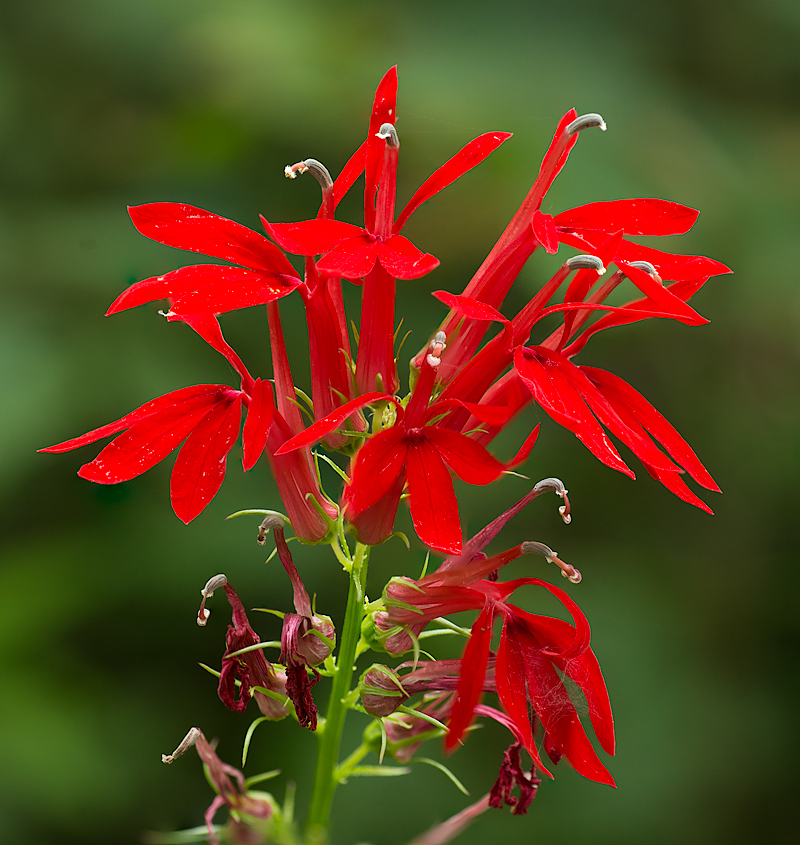 Cardinal Flower (Bonnechere Provincial Park)
The next day was bright and sunny but still windy. We launched our canoe on Long Lake and paddled the parameter. It was an easy excursion on the narrow lake. Long Lake is beautiful with rocky outcrops dressed in moss and lichen, sections of tall Red Pines and some impressive cliffs.
In the afternoon, we decided to try our luck at the marsh again, but the otters and heron were nowhere in sight. The sun, however, prompted numerous turtles to take advantage of the warmth and get into some serious sunbathing. We had a relaxing paddle around the parameter of Moore Lake, enjoying the beautiful shoreline.
For the last part of our road trip, we headed to Bonnechere Provincial Park for the weekend. Bonnechere remains one of our favourite small parks and we always enjoy our frequent visits. The river is a joy to paddle, the hiking trail is great and the beach is awesome. We heard the spring runoff hit Bonnechere hard. We witnessed the evidence on our paddle of the park's section of the Bonnechere River with sandbagged portions, eroded shorelines and many downed trees.
We love these road trips, travelling and visiting different parks over a week or so. Every day is a new adventure and always full of nice surprises.