MSR Hubba Hubba Tent
The MSR Hubba Hubba tent is an incredible tent. It is unbelievably lightweight, super easy to set up and take down and has ample storage possibilities with its two vestibules. It's a 3 season, two man tent. It's very cozy for a couple and has plenty of room as a solo shelter. It has a very small footprint, so it can be set up in areas where most large tents could not. This really opens up the options when setting up in those precarious spots like ledges and close to shorelines. It is also fantastic when camping with a group and tent space is limited.
How light is it? I initially had a one man tent that was great, shaped more like a coffin than a tent. It had half the space and practically no vestibule. However, it actually weighed more that the two man Hubba Hubba. Needless to say, when I go solo or need a tent that sleeps one, I just bring the Hubba Hubba. Double the space, double the storage, more comfort and it's lighter than the one man tent from a competitor tent company.

The Hubba Hubba design is exceptional. The aluminum pole system allows for a free standing tent that can be used with a fly, without a fly for full screen under the star tenting, or just with the fly and footprint for a real outdoor experience. I really love sleeping in the Hubba Hubba with the fly off on those full moon or full starry sky nights. It is as close to sleeping under the star without worrying about the bugs. It's so nice and refreshing to wake up and look up into the sky through the trees in the early morning.
The tent is symmetrical with identical entrances and vestibules on either side. This is great when used tandem as each person has their own entrance and storage.

The tent has an optional add-a-room. Although it's a little odd to set up, once done, it adds an even larger vestibule for that even more extra storage. I don't bring it on long solo trips, but it generally comes with us as it's just too convenient and weighs next to nothing.
The Hubba Hubba can stand up against severe weather. We have endured some wicked summer storms with high winds and heavy rains without any issues. It's been fine even with a little light October snow. One time, a summer storm appeared out of nowhere and it was pouring so hard that at stream formed and it made its way right under our tent. We thought for sure we were going to be frantically trying to dry our sleeping bags and clothing. However, no worries, the interior of the tent stayed bone dry; a true testament of its quality.
Another great thing about this tent is that it is from MSR. This company not only makes amazing gear, but they stand by their products. After years of using the tent and enjoying it, the fly started to have a sticky film to it and wasn't as waterproof. I contacted CascadeDesigns and they explained that, if the tent fly was yellow or green, it was considered under warranty. If the fly was orange, than it was quite old and I could buy the fly from them separately. Well, my fly was yellow, so they replaced it, free of charge. I find that to be very impressive and that kind of service should be praised.
I understand that MRS has recently come up with an improved version. However, I am going to enjoy mine for many more years. When it does finally wear out from extended use, I am confident I will eventually replace it with another 2 man tent from MSR.
Hubba Hubba - Green Fly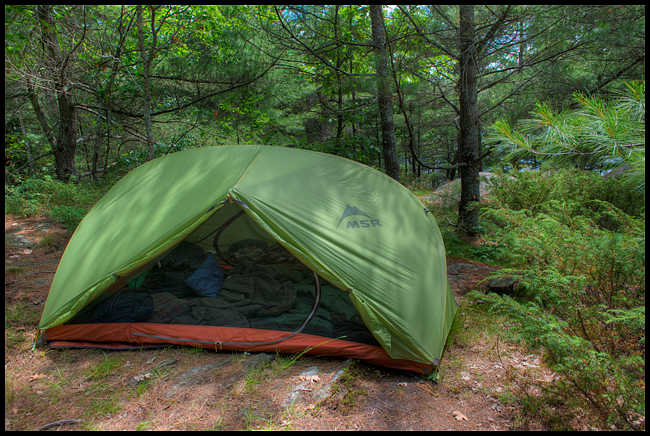 Hubba Hubba - Yellow Fly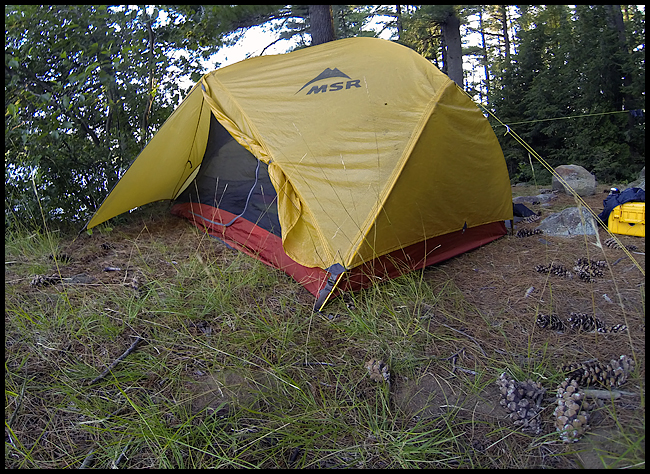 Hubba Hubba- No Fly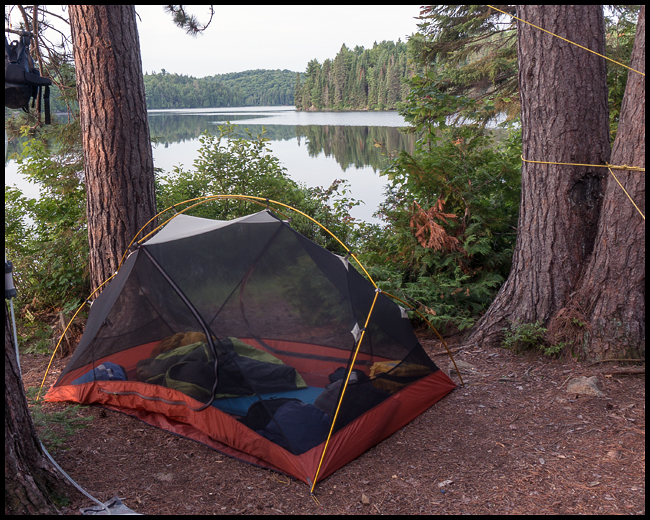 With Gear Shed Attached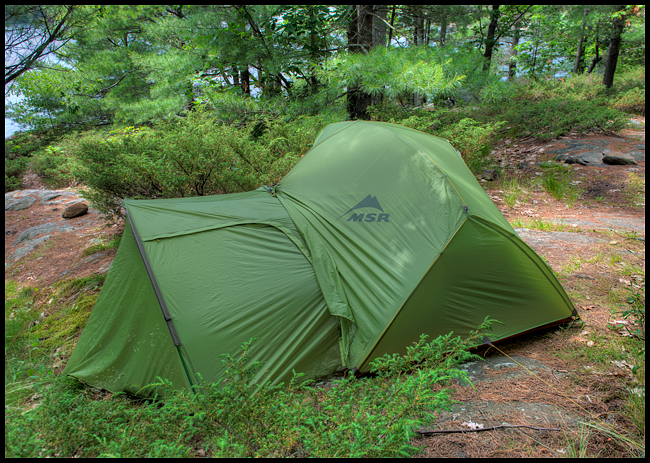 Hubba Hubba - Glowing at Night