Eureka Backpacker VCS Tarp 16
If you love being in the outdoors as much as we do, you have to accept that sometimes you have to be out there when the bugs are extremely bad. Late May and June is a magical time to be out. The wildflowers are blooming; the birds are nesting; wildlife is active. Many animals out with their young  and it's the best time to see fawns, moose calves, fox kits, bear cubs and so many others. The days are long and the parks are still relatively quiet.

We like camping in Algonquin in mid-June for all the above reasons. But, the problem is, the biting bugs are out. And sometimes, in some places, they are relentless to the point of ridiculous. Then we heard about the Eureka Backpackers VCS tarp from Kevin Callan and after hearing his recommendation, we had to give it a try. What a savior!

The tarp has an optional screen that attaches to the tarp and is a sanctuary from the bugs in the most horrible of bug times. Where it was virtually impossible to be outside among the blackflies and mosquitos, we could sit in the shelter in our shorts, sipping wine and cooking our dinner. All around us the woods were humming with the sound of the wings of the nasty parasites and we were smiling in our little haven.

It comes with its own bag, but alternatively, it can also be stuffed in a compression sack to save even more room in your pack. The tarp and bug shelter system is so light it can be brought on even the most rugged canoe or backpacking adventures. During bug season, you can still go out and enjoy tripping.  It can make a horrific bug infested expedition into a very enjoyable trip.

When the bugs are not as bad, the tarp, by itself is a great shelter. Its parawing design makes it very practical as it can be lowered to keep you dry during most rainstorms. We also set it up during our interior trips and keep it low to the ground to keep our equipment under during the nights. Everything stays dry and the morning dew on our equipment is minimized.

For years we were using the old blue polyethylene tarps as shelters. They are dirt cheap and readily available. But, since we have been spending so much time enjoying the outdoors, we decide it was time to buy a better tarp system. Why did we wait so long!?

The tarp is constructed of UV resistant Armatech polyester.  It is tear resistant and very quiet in the wind. No more loud flapping poly tarps, no more duct tape patches, no more going during a storm to re-secure the tarp due to ripped and torn grummets. Although much more expensive than those poly tarps, we think the Eureka Backpacker VCS 16 system is worth every penny.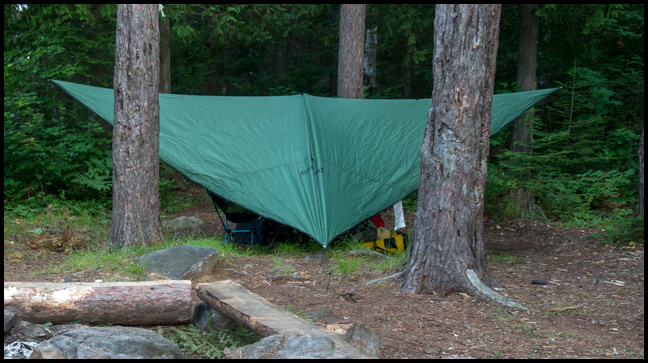 Keeping the VCS Tarp Low to Protect from Oncoming Storm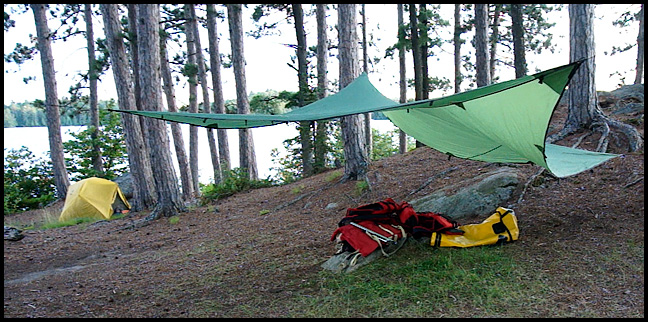 VCS Tarp: Great Tarp for Tripping.