Eureka! Bon Echo 8 Tent
Review by Tony deGroot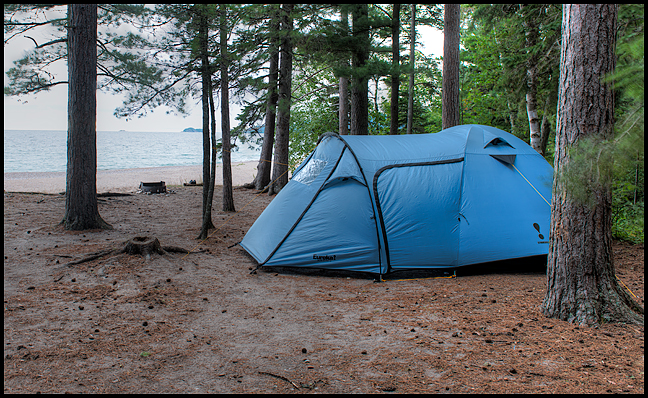 We have been coveting our fellow campers who had the Eureka Bon Echo designed tents for many years. When we found one on sale, we decided it was time to step up and get this amazing tent. I must say, we were misled and were under the impression that the tent had a screened opening in the front vestibule and almost got rid of it after getting the newer Bon Echo Tour 600 (see review here). However, as I mentioned, we did get a super deal and decided to keep it.

Now, if you read our other reviews, you know we talk about great tents. However, this tent, the Bon Echo 8 has become to be our favourite summer, fall and travelling tent. It's design is amazing for car camping and when on a car tour.

The tent bedroom is 8x8. Yes, I said bedroom because the vestibule on the tent is like another room. The fly covers an area 8 x 19. With a 2 foot back vestibule and 8x8 sleeping area, that leaves a 9 x8 front vestibule tall enough to walk in and set up tables and chairs during those rainy days.

The first time using it, we were camping on a gorgeous site on Lake Ontario. It was early July on a breazy lake, so bugs weren't going to be an issue. The tent was very easy to set up. It can easily be done by one person (I know from experience). With its 19ft length, it provides great privacy when set up that way.
8x8 is plenty of space for a queen size air mattress and our duffle bags. Tall enough to stand and plenty of ventilation with the large windows. But what we liked the most was the huge front vestibule. There are openings on three sides, so multiple configurations are possible. We enjoyed our coffees sitting in the vestibule during the morning drizzle with the flaps open. We were dry, looking over the lake, watching the seagulls, geese and other birds out in the rain. At night, we can store our chairs, firewood, bikes, rain gear and boots all in the oversized vestibule.

Being so pleased with the comfort and ease of the tent, we decided to take the tent on our 15 day tour of Lake Superior. This trip consisted of many put ups and take downs, multiple days of rain and some fierce winds while camping on the beach of the mighty Lake Superior. However, even in the worst storms, this tent held out with no issues whatsoever.

We did have a small issue. Since the front vestibule is floorless (which I wouldn't want any other way), campsite wildlife have no problem entering it under the walls. This isn't a big problem as we would never keep food in it or any other items that would attract wildlife. It's not so bad when toads and chipmunks pass through. But when a skunk pays a visit, that can be a different story.  Thankfully, the Sleeping Giant Provincial Park is the home of the world's friendliest skunks who opposed no threat at all. In fact, at times, we found them too friendly.

This tent came with us on trips in August and again in late October. Every time we find it a joy to call our home for our times in the parks.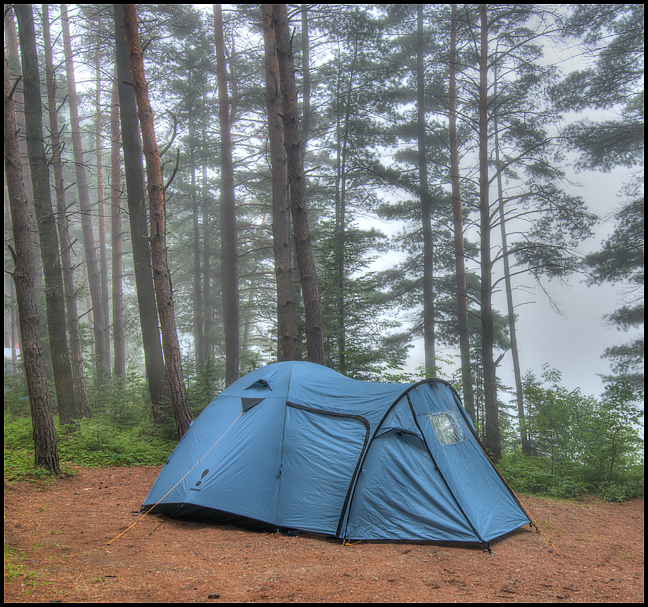 Eureka! Bon Echo 8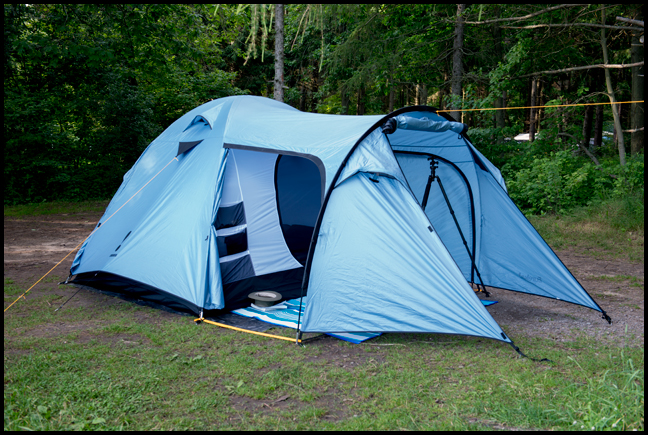 Eureka! Bon Echo 8 with open flaps on 2 sides.