Dragonflies and Damselflies of the East
AUTHORS: Dennis Paulson
Review by Tony deGroot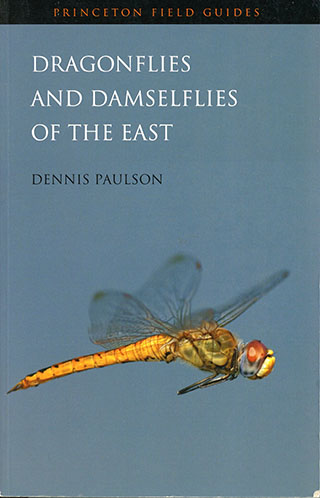 Odonatas are my favourite insects. They are so intriguing and unique. Even their common names are fascinating. So when I found Dragonfly and Damselflies of the East on the shelves of the Algonquin VC book store, it was at the checkout counter fast. This book really is complete; it's no lightweight. The guide has 544 pages, containing all (yes, all)  336 species of Odonatas of Eastern North America including full colour photos, identification aids, comprehensive text  and distribution maps for every species. That is amazing!

It is superbly organized by segregating the species in their respective families. this book is much more than just a field guide.The comprehensive text includes:  Description, Identification, Natural History, habitat, Flight Season and Distribution.

The kind of information in the book goes beyond what you would expect in a field guide. In fact, it's probably a bit big for the field unless you want to stuff it in your backpack. It is still a small package and obviously designed that way with field identification in mind. But for sitting at your desk when you are trying to identify those Dragonflies in your photos, you can't get more comprehensive than this.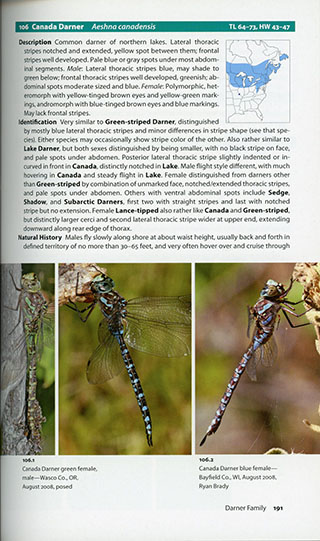 Although I love the photography, I find it not as good and some of the illustrated guides when it comes to identifying the different species. Photos do have certain advantages as it show the species in their landing pose, a helpful clue when trying to identify as many species, (just like the birds), have distinct perching stances and preferences.

Whether you are a nature lover, photographer or a serious entomologist, you will find this book a must have edition for your reference to the Dragonfly and Damselflies of the East.
Paperback: 544 pages
Publisher: Princeton University Press
Published date : Dec 19 2011
ISBN-13: 978-0691122830
Book Dimensions: 1.6 x 14 x 21 cm
For another great book on Odonatas in Ontario, check out Field Guide to The Dragonflies and Damselflies of Algonquin Provincial Park. This book covers all of the 135 species found in Algonquin Park, which is many of the species in found in Ontario. For my review, follow this [LINK]